Welcome to Maidenhead Neighbourhood Forum
APOLOGIES. THE SITE IS UNDER REPAIR AFTER A CYBER-ATTACK. WE HOPE TO BE BACK TO NORMAL IN JANUARY.
Is Maidenhead really not an "appropriate and logical" area for a Neighbourhood Plan?
Dear Member/Supporter,
We were very disappointed to receive an email from RBWM Planning on November 24th (which you can read on this link) which expresses their view that the seven wards of Maidenhead (i.e. the whole town) is not an "appropriate or logical" area to have a Neighbourhood Plan. This was after 18 months of protracted discussion with them.
You can read our submission to RBWM on this link.
For anyone who has forgotten what the concept of Neighbourhood Planning is, and the legislation behind it, you can find a refresher on this link. It basically means (in the words of UK Government) "Neighbourhood planning gives communities direct power to develop a shared vision for their neighbourhood and shape the development and growth of their local area. They are able to choose where they want new homes, shops and offices to be built, have their say on what those new buildings should look like and what infrastructure should be provided, and grant planning permission for the new buildings they want to see go ahead. Neighbourhood planning provides a powerful set of tools for local people to plan for the types of development to meet their community's needs and where the ambition of the neighbourhood is aligned with the strategic needs and priorities of the wider local area"
RBWM's Head of Planning's main concern has always been that for a town the size of Maidenhead, it's "a bit of a stretch" to call it a Neighbourhood. We keep pointing to the fact that many other similar towns such as Bracknell have a Neighbourhood Plan for the whole town but as you can see in their reply, they want us to look again at the possibility of creating smaller sub-areas, each with their own Plan.
"Our recommendation to you is to further consider splitting the area into at least 2, with 3 unparished areas in each, and to establish clear local connections supported by evidence. "
There are advantages to this idea – the more local the Plan, the more sensitive it can be to the needs and wants of the people who live there (this is why many Neighbourhood Plans are put forward by Parish Councils).
But there are two major questions raised by their suggestion.
The first is about practicality. Given how difficult it has been to find people across the whole town who are willing and able to run the Forum and develop policies, is it realistic to find two or three times that number to develop different and separate plans?
Secondly, which geographical areas? Our discussions so far have looked at two possibilities:
Divide the town in two along the A4 Bath Road. Currently the north is more populous, but the planned new homes will be in the southern part, so this will even up. But this doesn't reflect two communities, just lines on a map.
Separate the town centre from the surrounding area. This is technically possible but may not make sense from a resident's point of view because the town centre is used by people from all over the town.
But maybe we are missing a trick. That's why we want to ask you the four questions in our survey – please answer them on this link
We look forward to hearing from you SURVEY CURRENTLY SUSPENDED WHILE HACKED SITE IS REPAIRED
"What about the infrastructure?" - some answers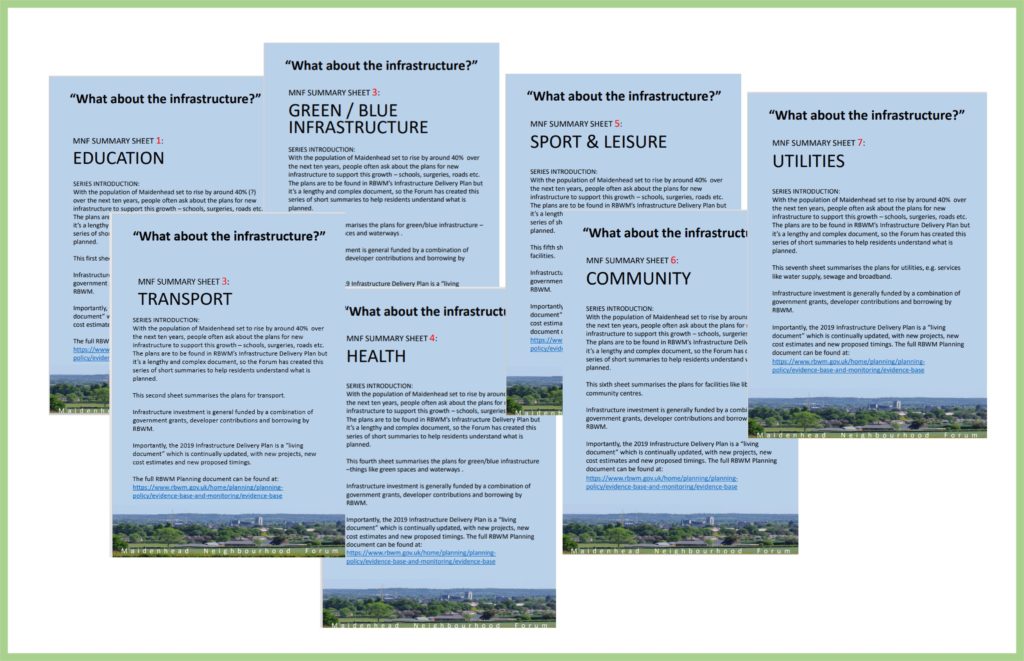 With the population of Maidenhead set to rise by around 40% over the next ten years, people often ask about the plans for new infrastructure to support this growth – schools, surgeries, roads etc. The plans are to be found in RBWM's Infrastructure Delivery Plan but it's a lengthy and complex document.
So the Forum has created this series of short summaries to help residents understand what is planned:
Education    Transport  Utilities  Green/Blue infrastructure   Sport & Leisure   Community   Health
Importantly, the 2019 Infrastructure Delivery Plan is a "living document" which is continually updated, with new projects, new cost estimates and new proposed timings. The full RBWM Planning documents can be found at: https://www.rbwm.gov.uk/home/planning/planningpolicy/evidence-base-and-monitoring/evidence-base
We hope you find these useful - if you would like to make a comment please go to Facebook (Maidenhead Future group) or NextDoor.com.
Email enquiries to chair@mnf.org.uk